"TUDOR DRĂGANU" INTERNATIONAL SCIENTIFIC STUDENTS' COMPETITION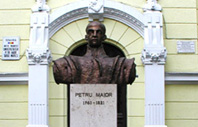 Continuing the tradition of past years, also this time, the Organizing Committee of the International Competition of Scientific Papers "Tudor Drăganu" wants to create an auspicious framework for academic and scientific development of research and oratory skills of students on the occasion of the XIVth- edition, which will be held between 8-9 December 2017.
The organizers aim not to overlook the social side of the event by facilitating intercultural branch and how the guests and participants can interact by exposing their views on a topic of general interest. Also, a natural consequence of these meetings is the establishment of friendship and cooperation relationships between students from academic medium European Union and other universities from beyond.
All the papers can be written in English or French.
During this academic events, we believe that it can initiate and strengthen educational ties between our University and other universities from the country and abroad.
To properly view this website we propose to use the latest version of Mozila Firefox, Internet Explorer or Google Chrome with Adobe Flash Player plugin installed. (click on links to download the desired application).